South Africa 1996
This is my all-time team for South Africa
.
If there were an All-Time World Cup, this would be the 23 players I would bring to the tournament.
Ghana,
Cameroon,
Nigeria,
Algeria,
Morocco,
Egypt, Ivory Coast,
Senegal
,
North Africa,
The Rest of
A

frica(excluding Cameroon, Senegal, Ghana, Ivory Coast, South Africa, Nigeria and North Africa)
South Africa was an early pioneer in African football.
They were the founding member of CAF in 1956. However, due to Apartheid, they were expelled from CAF in 1958 and suspened from FIFA in 1961(finally, expelled in 1976) .
Bafana Bafana reentered international football in 1992 at the end of Apartheid and played in the WC Qualifiers for USA 1994. In 1996, they made a significant progress when they won the African Cup of Nations, held at home. Bafana Bafana went on to qualify for France 1998. In the Finals, they earned two draws in the group stage. In 2002, they earned their first WC victory against Slovenia, and in 2010, they beat France as the host of the WC Finals.
Team
GK:
Arthur Riley
Arthur Riley had two caps for South Africa before

leaving for England in 1925 to join Liverpool. He spent 15 years there and played over 300 games. He was one of the first African-born players to make it in Europe.
GK:
Hans Vonk
Hans Vonk

was the starting keeper for South Africa at the 1988 WC Finals. He played mainly in the Dutch league, notably with Heerenveen. He was capped for Holland at the youth level before representing South Africa at the senior level.
GK:
Banks Setlhodi
Nicknamed "Banks" because of Gordon Banks. He played for Kaizer Chiefs
between 1970 and 1985. He could play in various outfield position as well.
RB:

Ryder Mofokeng
He was the captain of Kaizer Chiefs for 11 years during the Golden Era of the club.

He won 4 NPSL titles and a quadruple in 1981. Due to Apartheid, he never played international football.
CB:
Lucas Radebe
He began playing in South Africa with Kaizer Chiefs, before transferring to Leeds United, where he played 200 matches for the Yorkshire side. During his spells at these clubs, he picked up the nicknames "Rhoo" and "The Chief". He became captain of Leeds United and also of the South African national team, most notably at World Cup 2002.
In 2000, he was awarded the FIFA Fair Play Award.
Lucas Radebe
CB: Simon Lehoko
Nicknamed the "Bull". He was considered one of the greatest defenders in Kaizer Chiefs' history. He played between 1978 and 1985. He won
a quadruple in 1981with them.
Due to
Apartheid, he was only capped twice.
CB: Neil Tovey
He was the captain of South Africa as it won the African Cup of Nations in 1996. He won 52 caps. He started his career with Durban City, He later played for
AmaZulu and then Kaizer Chief.
CB: Mark Fish
Fish helped South Africa to win the 1996 African cup of Nations, which was considered to be a historical event at the newly founded republic. He also went to France 1998. He started his career with Orlando Pirates. In 1996, he joined Lazio in Italy, but failed to settle down. He later played for Bolton Wanderers and Charlton Athletic.
Mark Fish
LB: Tsepo Masilela
He has played 51 times for Bafana Bafana, participating in the 2006 African Nations Cup, 2008 African Nations Cup, the 2009 FIFA Confederations Cup and the 2010 FIFA World Cup. For his club career, he is best remembered playing for Maccabi Haifa between 2007 and 2012. He also played for Getafe in Spain and Kaizer Chiefs back home.
Tsepo Masilela
LB: Rodney Kitchin
He captained South Africa's first multiracial representative team that beat a visiting Argentinian side in 1976. He played for Durban United.
CB/DM:
Aaron Mokoena
He is the youngest ever player to have represented South Africa. He was capped 109 times. He joined Ajax in 1999, but played mainly in Belgium. In 2005, he joined Blackburn Rovers and stayed there until 2009. He also played for Portsmouth.
RW: Berry Nieuwenhuys
He was one of six South Africans playing for Liverpool during the 1930's. He played over 200 games for Liverpool between 1933 and 1947. He scored 79 goals.
Berry Nieuwenhuys
LW: Albert Johanneson
He left South Africa to play for Leeds United in 1960. He stayed there for 9 years. He is the first high profile Black player in the English league. In 1965, he appeared in the FA Cup Final, the first Black player to play in it.
RW: Craig Johnston
Born in South Africa of Australian background, Johnston joined Middlesbrough FC from Australia. He was better known for his career with Liverpool FC between 1981 and 1988. He was a key member of the 1986 "double" winning team. He also won the European Cup in 1984. He was eligible for Australia, Scotland and South Africa, but he never had a senior international career. He had described playing football for Australia as "like surfing for England."
LM/LW: Nelson "Teenage" Dladla
He played his entire career with Kaizer Chiefs between 1976 and 1988, where he was a legend. Due to
Apartheid, he never played international football.
AM: Doctor Khumalo
He scored South Africa's first ever goal after it readmitted to international football. He was a key player for South Africa as it won the 1996 African Cup of Nations and qualified for France 1998. He played for Kaizer Chiefs before going to play for Colombus Crew in the MLS.
Doctor Khumelo
AM/FW: Jomo Sono
He was considered to be one of South African players. He started his career with Orlando Pirates. He was remembered for playing for NY Cosmos with Pele. He spent most of his professional career playing in NASL. He found Jomo Cosmos in 1983 naming the club after himself and NY Cosmos.
AM/ST: Patrick Ntsoelengoe
He is considered to be South African greatest players. Due to sanction against South Africa, he only earned two caps. He spent most of his career playing in South Africa and North America.
He started his career with Kazier Chiefs. His best stint in the US was with Minnesota Kicks. He is also a member of the National Soccer Hall of Fame(USA) for his 11 seasons in the NASL.
FW:
Kaizer Motaung
He played for Orlando Pirates before moving to play for Atlanta Chiefs in the NASL. In his first season in the USA, he finished as the top scorer and won the Rookie of the Year award. He also played Denver Dynamos. After he returned from the USA in 1970, he found Kaizer Chiefs naming the club after himself.
ST: Benni McCarthy
McCarthy is probably the most famous South African player after the end of Apartheid. He is Bafana Bafana's all-time top-scorer with 32 goals. He played in the WC Finals of 1998 and 2002, but missed out on the 2010 WC Finals playing at home. His best part of his club career was spent in Porto where he won the Champions' League in 2004. He was the league's top scorer in 2006. He also played for Celta Vigo, Blackburn Rovers, etc.
Benni McCarthy
ST: Steve Mokone
He was
the first black South African player to play in a professional European league when he joined Coventry in 1955. He also signed with FC Barcelona, Torino and Valencia.
ST: Gordon Hodgson
He was capped twice for South Africa before he left for England in 1925. He played for Liverpool between 1925 and 1936.
He scored 233 goals in the top-flight from 358 appearances. He is the 4th all-time leading top flight scorer in the English football. He also played for Aston Villa and Leeds United. He was capped three times for England and also played cricket.
He was a star with Kaizer Chiefs between 1972 and 1985. In between, he played in the USA for Denver Dynamos and Minnesota Kicks, and Penarol in Uruguay. Due to Apartheid, he only for South Africa Black XI.
Abednigo Ngcobo
ST: Phil Masinga
He was capped 58 times.
He was
a member of the team that won the 1996 African Cup of Nations and qualified for France 1998.
He played in the English Premier League for Leeds United, and Italian Serie A for Salernitana and Bari. He also played for Jomo Cosmos, Mamelodi Sundowns, St. Gallen and Al-Wahda.
Honorable Mention
Shaun Bartlett
,
Sizwe Motaung, John Moshoeu, Sibusiso Zuma and Quinton Fortune, Steven Pienaar, Geoff Wegerle, Steve Wegerle, Noel Cousins, Mark Tovey, Bradley Carnell.
Squad Explanation
-- I tried my best to include players from the Apartheid's era, where South Africa was isolated internationally and the players were unknown outside of South Africa.
-- Due to the sporting ban on South African national team, many South African players never played for South Africa. I do not know if they would ever choose to play for South Africa.
-- Jomo Sono, Geoff and Steve Wegerle, etc got to play overseas and become well-known outside South Africa, but many of the players from that era were unknown outside of the country.
-- Why Craig Johnston? South African-born Craig Johnston left South Africa at an early age. He had rejected callups from Scotland and Australia, a place where he grew up, but we do not know if he would play for South Africa. I think very unlikely, but nobody would know. And most all-time lists do not include him. However,
Jomo Sono, Berry Nieuwenhuys and
Albert Johanneson also did not play for South Africa. Their situation is similar with Craig Johnston. I selected them based upon eligibility. I cannot exclude him while taking others uncapped South African-born players. So I am including Johnston on this updated version.
-- Geoff and Steve Wegerle never played for any national team while the younger Roy Wegerle played for the US. Roy is eligible.
-- Mark Tovey never got to play international football unlike his brother Neil. According to some source, he was better than Neil.
Starting lineup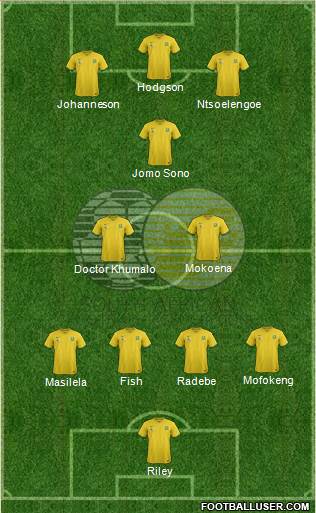 Shaun Bartlett

Sibusiso Zuma

John "Shoes" MoshoeuSizwe MotaungQuinton Fortune
Aaron Mokoena