Peru 1970's
I have done all-time teams for Uruguay, Argentina and Brazil. This is the team for the rest of South America, excluding players from the three national teams.
If there were an All-Time World Cup, this would be the 23 players I would bring to the tournament. The team is not an All-Star team. I tried to be as realistic as possible. A few of the players are selected for tactical reasons at the expense of more famous players.
Please also see my
All-Time World Cup Team Index.
Team
GK:
Jose Luis Chilavert (Paraguay)
Known for his freekicks, he was an icon of a generation. He was South American Player of the Year in 1996. Against Argentina in a WCQ in 1997, he promised to score a goal before the match and he did.
He led Paraguay to the round of 16 at both WC Finals in 1998 nd 2002. He won 12 club titles, including the 1994 Copa Libertadores and the 1994 Intercontinental Cup, whilst playing for Vélez Sarsfield.
Jose Luis Chilavert
GK:
Oscar Cordoba (Colombia)
Oscar Cordoba played for Boca Juniors from 1997 to 2001, perhaps the greatest club side in a generation.
He won the Copa Libertadores 2000 and 2001, and the Intercontinental Cup of 2000. With 73 caps, he is Colombia's cap record holder for a goalkeeper. He was the starting keeper that won the 2001 Copa America, Colombia's first ever title.
GK:
Sergio Livingstone (Chile)
Sergio Livingstone was the greatest keeper in Chile's history. He was of Scottish descent.
He was nicknamed "El Sapo" ("The Toad") for his typical posture in the goal mouth. From 1938–59 he played primarily for CD Universidad Católica in Santiago. With Chile he took part in seven South American Championships and one World Cup.
RB:
Luis Eyzaguirre (Chile)
Luis Eyzaguirre played right back in the Universidad de Chile football team known as the Ballet Azul, with which he won four national championships.He capped 39 times played in 1962 World Cup Finals at home where Chile reached the semi-final. He was considered the best rightback of his time.
RB: Francisco Arce (Paraguay)
Arce was capped 61 times. He was a part of the great defensive unit of Paraguay in 1998 and 2002. He started his career with Cerro Porteño. He won the Copa Libertadores in 1995 with Gremio, but he spent much of his career with
Palmeiras in Brazil. He later played in Japan with Gamba Osaka.
CB/RB: Ivan Cordoba (Colombia)
He is one of Colombia's greatest defenders.
He earned over 70 caps for Colombia.

He captained Colombia to win the 2001 Copa América competition, scoring the only goal in the final. Córdoba also played for his country in France 1998.
He was one of the best defenders in Serie A during his time in Italy. He spent 12 seasons with Inter Milan

winning the

Champions' League in 2010.
Ivan Cordoba
CB: Hector Chumpitaz (Peru)
Hector Chumpitaz was Peru's captain during their Golden Generation in the 1970's. Peru with him as the captain won the
Copa America 1975 and qualified for the 1970 and 1978 World Cup Finals. He was considered one of the best defenders in South America's history. For his club career, he played mainly in Peru, but also in Mexico.
CB:
Carlos Gamarra (Paraguay)
Widely considered a top defender in South America during his peak years. He
is the most capped player in Paraguayan football history.
He was named as the Paraguayan Footballer of the Year in 1997 and 1998, and was also included in the 1998 FIFA World Cup Team of the Tournament. Fir his club career, he played in Paraguay, Argetina, Brazil, Portugal, Spain, Greece and Italy.
SW:
Elias Figueroa (Chile)
He was one of the best defenders in South American history. He was named
the Brazilian Player of the year award whilst playing for Internacional in 1972 and 1976. He was also awarded the South American Footballer of the Year three times in a row.
He played for several clubs during his long career, notably his hometown club Santiago Wanderers, Brazilian club Internacional and Uruguayan club Peñarol. He also represented Chile 47 times, appearing in three world cups, in 1966, 1974, and 1982.
Elias Figueroa
LB: Nicolas Fuentes (Peru)
Despite only played 17 times for Peru, Nicolas Fuentes was considered one of Peru's greatest defender. He was

a

member of Peru's Golden Generation in the 1970's. He went to the World Cup Finals in 1970.
He played mainly with Club Universitario de Deportes. He also played for Defensor Lima and Sporting Cristal.
LB: Catalino Rivarola (Paraguay)
Rivarola started his club career with Cerro Porteño in 1985. and was part of the team that won the 1987 championship. H
e was part of the Grêmio team that won the Copa America in 1995 and Recopa Sudamericana in 1996. He played for Palmeiras in the season that they won the Copa Libertadores in 1999.
He was a member of the great defensive unit of Paraguay in the 1990's.
DM: Jose Velazquez (Peru)
He was not a member of Peru's 1970 World Cup team, but he won the Copa America in 1975. He participated at the WC Finals in 1974, 1978 and 1982. He is considered one of the greatest defensive midfieders in South America.
At club level he played for Alianza Lima in Peru., where he was part of three league championship winning campaigns (1975, 1977 & 1978). He also played for Independiente Medellín of Colombia, Hércules CF of Spain and Deportes Iquique of Chile.
CM:
Carlos Valderrama (Colombia)
Nicknamed El Pibe, he was Colombia's greatest ever player. He was one of the best passers ever from South America. He was twice South America Player of the Year in 1987 and in 1993.
Between 1985 and 1998 he represented Colombia in 111 full internationals and scored 11 times, making him the most capped player in the country's history.
El Pibe
LW: Juan Joya (Peru)
Juan Joya was one of the best left wing in South American history. He won 11 titles with Penarol between 1961 and 1969, including
two Copa Libertadores and a two Copa Intercontinental. He also played for Alianza Lima and River Plate(Argentina). He played 9 times for Peru and once for Uruguay. He played in two Copa Americas for Peru.
LW:
Leonel Sanchez (Chile)
Leonel Sanchez was Chile's record cap holder until 2014. He had 85 caps. He was one of the greatest left wingers ever.
He scored 4 goals in the 1962 World Cup Finals, where he finished as a joint-top scorer, as Chile finished 3rd. He spent the majority of his career with Universidad de Chile, despite offers from big clubs in Europe.
AM: Cesar Cueto (Peru)
Cesar Cueto was nicknamed "El Poeta de la zurda" (the Left-footed Poet). He was a key player in Peru's Golden Generation of the 1970's.
He earned 51 caps between 1972 and 1985. He played in 2 World Cup Finals: 1978 and 1982. He was a part of the team that won the 1975 Copa America. He played club football in Colombia and Peru.
AM: Teofilo Cubillas (Peru)
Teofilo Cubillas is Peru's greatest ever player.
He was a part of three World Cup teams: 1970, 1978, 1982.

He
is one of only three players to score five or more goals in two different World Cup Finals. He finished Number 17 at the South American Player of the Century award in 2006. He is associated with Alianza Lima, butr also played in Portugal, Switzerland and the United States.
Teofilo Cubillas
AM:
Julio Cesar Romero (Paraguay)
Julio Cesar Romero was considered the best outfielder in Paraguay's history. He also had careers in Paraguay, the USA, Spain, Mexico, Chile and Brazil. His two most famous stints were with NY Cosmos and Fluminense. He was a big idol with the Brazilian club. He led Paraguay to win the Copa America in 1979 and to qualify for the World Cup Finals in 1986.
AM:
Marco Etcheverry (Bolivia)
He was one of the best ever Bolivian player and one of the best players to have played in MLS. He was an important player as Bolivia beat Brazil in 1993 and qualified for their first WC Finals in 1994. He was capped 71 times. For his professionbal career, he played in Spain, Colombia and Chile before he moved to MLS in 1996 where he became a star. He won 3 MLS Cups with DC United.
RW/FW: Hugo Sotil (Peru)
Together with Teófilo Cubillas and Héctor Chumpitaz, he was one of Peru's most recognized football players of the 1970s. He also was a popular player in Peru, and a biopic on his life was released in that decade. He was a key member of Peru's Golden Generation in the 1970's. He played with Johan Cruyff at Barcelona where he was a fan favorite.
ST: Arsenio Erico (Paraguay)
Erico started with Club Nacional of Paraguay, but better known for his career in Argentina. He is the all-time highest goalscorer in the Argentine first division, with 295 goals, all of them scored with Independiente. He also played for Huracán. He is considered the best Paraguayan footballer of all time. He was Alfredo Di Stefano's idol.
Arsenio Erico
ST:
Alberto Spencer (Ecuador)
Alberto Spencer was known as "

Cabeza Mágica

" (Spanish for magic head). He is still the all-time leading scorer in the Copa Libertadores' history. He won three Libertadores Cups and two Intercontinental Cups with Uruguay's Penarol.
He was elected the 20th best South American footballer of the 20th century in a poll by the IFFHS in 2004
ST:

Teodoro Fernández

(Peru)
He
was part of the Peruvian squad that reached quarter-finals in the 1936 Olympic Games. He won the 1939 Copa America, a tournament in which he emerged as the top scorer and best players. He is the second top scorer in the history for his country. Fernández played his entire career with Universitario de Deportes, winning six times the Peruvian league.
Honorable

M

ention
Ivan Zamorano

(Chile) ,

Victor Benitez

,
James Rodriguez (Colombia), Alexis

S

anchez(Chile),
Leonel Sanchez (C

hile),
Arturo Vidal(Chile),
Willington Ortiz
(Colombia),
Hugo Sotil (Peru)
Squad Explanation
-- Marco Etcheverry is the biggest surprise of the team. Basically, I want to include a player from Bolivia and I also happened to be a fan of his. I could not find space Ivan Zamorano and Victor Benitez.
James Rodriguez led Colombia to the WC quarterfinal and won the Golden boot, but he has not done enough to earn a spot.
-- Francisco Arce and Carlos Gamarra were very successful in the Brazilian league. People outside of South America did not know of their reputation. Gamarra's club career in Europe actually did not stand out, but he was considered one of the best in the world by South American fans.
-- Alexis Sanchez was added to the honourable mentionlist after I finished the blog. I feel that he has achieved enough to be listed among the older players.
Starting lineup
Formation I: 4-2-3-1
I tried to recreate Peru of the 1970 with this team. Although Peru did not use this formation, I brought their players who also have the same playmaking abilities. I started two of the three Peruvian midfielders from Peru of the 1970. I only left out Sotil and replaced him with Romeo. My team also included Valderrama who was perhaps one of the greatest passers ever from South America. I opted to start Alberto Spencer who was more of a classic #9.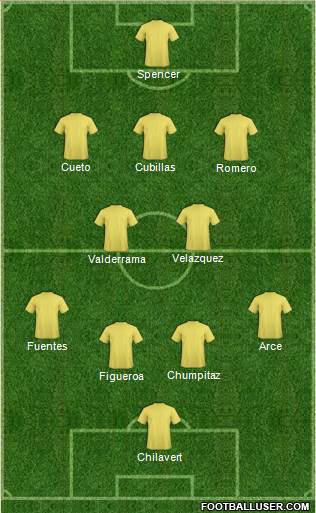 Formation II: strikerless system
My team is blessed with great playmakers. I can copy the playbook from Spain of 2012 and play with a strikerless formation.