Please also see my
All-Time World Cup Team Index.
I have create an all-time Yugoslavian team that featured played from all the former republics. This one is the all-time 23 member team for Serbia. I have also create an all-time team for Croatia and the rest of the former Yugoslavia without Serbia and Croatia.
Historically, Yugoslavia is loaded with football talents, but they did not perform as well as they should have.
Dragan Stojkovic and
Dragan Dzajic were some of the greatest players in Yugoslavia.
GK: Milutin Soskic
He was a legend with FK Partzan. he was capped by Yugoslavia for 50 times between 1959 and 1966.
GK: Petar Radenkovic
He also goes by the name Perica. He won a silver medal at the 1952 Olympics. He played over 200 games for Munich 1806.
GK: Srđan Mrkušić
He was capped by both the Kingdom of Yugoslavia and
Federal People's Republic of Yugoslavia between 1941 and 1950. He went to the WC Finals in 1950. He also went down in history as one of the founders of Red Star Belgrade football club in early March 1945.
RB:
Vladimir Durković
He ws capped 50 times. He went to Euro 1960, where Yugoslavia finished second. Then, he won the Olymouc Gold the same summer. In 1962, he went to the WC Finals and reached the semifinal.
He played with Red Star Belgrade until he was 28 and moved to Saint Etienne.
RB:
Milutin Ivković
He played in the 1930 World Cup Finals. He is considered the best rightback in Yugoslavian football history. He was executed by the Nazi during the War.
CB: Nemanja Vidic
He spent 9 seasons as the starting center-back at Manchester United from 2006 and 2014, where he won every major trophy and established himself as one of the best center-backs of his generation. He also played for Red Star Belgrade and Spartak Moscow. He went to the WC Finals in 2006 and 2010.
Nemnja Vidic
CB: Velibor Vasovic
He was a legend at FK Partizan. He lost the European Cup to Real Madrid in 1966. A year later, he later joined Ajax and established himself as one of the best defenders in Europe. In 1971, he captained Ajax as they won their first European Cup. He played 32 times for Yugoslavia.
CB: Miroslav Djukic
He spent 14 years of his professional career in Spain, notably at the service of Deportivo de La Coruña and Valencia, amassing La Liga totals of 368 games and 11 goals, and winning six major titles for the two clubs combined. He played at Euro 2000 for Yugoslavia.
CB/LB: Sinisa Mihajlovic
He was capped 63 times between 1991 and 2003. He was one of the best defender in Serie , notably played for Roma, Sampdoria, Lazio and Inter Milan.
He was part of the golden generation of Yugoslav players who won the 1987 FIFA World Youth Championship in Chile.
DM:
Milorad Arsenijević
He earned 52 caps for the Yugoslavia, and played in the 1930 FIFA World Cup. He played his entire career with BK Belgrade.
CM: Vladimir Jugovic
He was a member of Red Star Belgrade that won the European Cup in 1990. He won another one with Juventus in 1996. He played at Euro 2000 and the World Cup 1998 for Yugoslavia. He was capped 41 times.
Vladimir Jugovic
AM: Dejan Petković
After leaving Red Star Belgrade in 1995, Petkovic's career in Europe did not succeed. In 1997, he joined Vitória in Brazil. He was one of the few Europeans to play and succeed in the Brazilian league. He was considered one of the best players in Brazil during his days there. Between 2000 and 2011, he played for 7 Brazilian clubs. He was a hero for three Rio clubs. His international career, however, was limited to 7 caps.
AM: Dragan Stojkovic
He
is considered one of the best players in the history of Yugoslavian and Serbian football. He starred for Yugoslavia at the 1990 FIFA World Cup (where he was named in the World Cup All-Star Team) and 1998 FIFA World Cup where he captained the team. He was a star player at Red Star Belgrade, but he was playing for Marseille when Red Star Belgrade beat Marseille in the 1990 Final of the European Cup.
Dragan Stojkovic
AM: Dragoslav Sekularac
He was considered one of the best player in Red Star Belgrade history. He played in the 1958 and 1962 World Cup Finals, where his team reached the semifinal in 1962.
CM/DM/RM: Dejan Stankovic
He is best remembered for his stint with Inter Milan where he won 5 league titles and one Champions League title. He played in three WC Finals for three different national teams: Yugoslavia,
Serbia and Montenegro and Serbia.
Dejan Stankovic
RW:

Vujadin Boškov
He played with FK Vojvodina for most of his career (1946–1960). In 1961 he moved to Italy to play for Serie A club Sampdoria for one season and then, Young Boys in Switzerland. Later in his career, he returned to his mother club and became a player/coach.
RW: Aleksandar Tirnanić
He played 50 times for the Kingdom of Yugoslavia between 1929 and 1940. He went to the WC Finals in 1930, where he became among the youngest goal-scorer in WC history.
LW: Bora Kostić
He is the all-time leading scorer
Red Star Belgrade, During his club career he played for Red Star Belgrade, Lanerossi Vicenza and St. Louis Stars. He earned 33 caps and 26 goals for the Yugoslavia, and participated in the 1960 European Nations' Cup.
LW: Dragan Dzajic
Džajić is viewed by some football experts as perhaps one of the most underrated players in European football, partly because he played in Yugoslavia. He is considered one of the greatest left wing in history of the game. He played most of his career with Red Star Belgrade. He was capped 85 times for Yugoslavia. He was voted the best player at Euro 1968.
Dragan Dzajic
ST: Blagojie Marjanovic
He played 57 times for the Kingdom of Yugoslavia. He was one of the first superstars in Yugoslavia. He played in the WC Finals of 1930, where Yugoslavia reached the semifinal
ST/SS: Miloš Milutinović
He was one of the Milutinović brothers who were famous players and coaches in Yugoslavia.

He earned 33 caps in total and represented the country in the 1954 and 1958 World Cups. During his club career he played for FK Bor, FK Partizan, OFK Beograd, FC Bayern Munich, RCF Paris, and Stade Français Paris.
ST/SS: Milan Galic
He scored 37 international goals in 51 matches for the Yugoslavia. He participated in the 1960 Summer Olympics, winning the gold medal, the 1960 UEFA European Football Championship, where Yugoslavia finished second and the 1962 FIFA World Cup, where Yugoslavia finished fourth. On the club level, he played for FK Partizan and Standard Liège.
ST/SS: Rajko Mitic
He was the captain of Red Star Belgrade when it was found in 1945. He was considered one of the club's greatest players.
He won 59 caps (in which he was captain 34 times) for Yugoslavia, and scored 32 goals.
Honorable Mention
Mirolad Arsejanovi.
Squad Explanation
I tried to mix players from the days of the Kingdom of Yugoslavia to the modern era.

I tried to find a spot for Mirolad Arsejanovi.

Dejan Stankovic was relatively unknown in Europe, but he accomplished something few footballers were able to achieve.
Starting lineup
Formation I: 4-3-3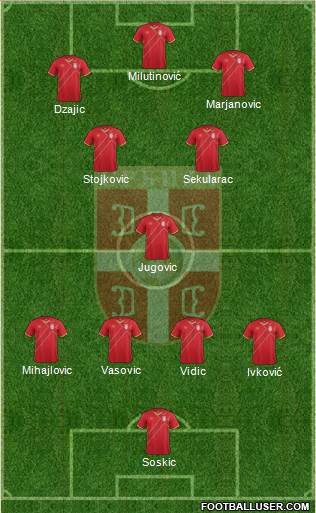 Formtion II: 4-2-3-1
This is a more defensive approach.I added Stankovic who is better defensively.